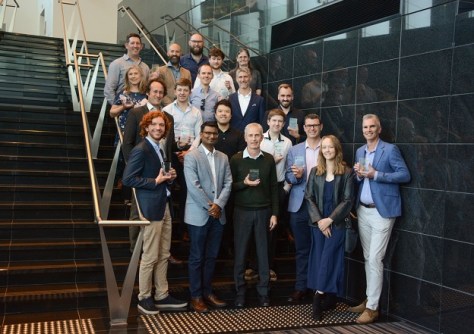 The South Australia winners of the 2023 Geospatial Excellence Awards were announced on 27 October at the Geospatial Council of Australia's South Australia Geospatial Conference and Awards Dinner.
The Awards, formerly the Asia-Pacific Spatial Excellence Awards, are presented on a state/territory basis, with the winners going into the running for the prestigious annual Oceanic awards.
This year's South Australian recipients, along with a Northern Territory recipient, are:
Environment and Sustainability Award, Community Impact: OZ Minerals, GP One Consulting and Esri Australia for the DigiSHEC (Digital Safety Health Environment Community) app.
Geospatial Enablement Award: OZ Minerals, GP One Consulting and Esri Australia for the DigiSHEC app.
Northern Territory Geospatial Enablement Award: Aerometrex and NT Farmers for the Advancing Holistic Agricultural Practices and Land Stewardship through LiDAR Innovation project.
Innovation Award for Medium-to-Large Business: The Australian Bureau of Statistics for the 2021 Socio-Economic Indexes for Areas.
International Partnership Award: Aerometrex for the Las Vegas High Resolution 3D Reality Mesh Model Project.
Technical Excellence Award: OZ Minerals, GP One Consulting and Esri Australia for the DigiSHEC app.
Workforce Development and Inclusion Award: Australian Spatial Analytics and Fugro for Onshore LiDAR Processing Utilising a Neurodiverse Workforce.
Undergraduate Student Award: Luke Pringle, who is undertaking his honours year for a Bachelor of Environmental Science.
Postgraduate Student Award: Marcio DaSilva, who is working on a multi-disciplinary PhD thesis entitled 'Monitoring Coastal Dune Changes with Geospatial Technology'.
Diversity and Inclusion: Georgie Cassar, who has made contributions to the Women in Geospatial Science network and is Geospatial Team Leader at the City of Port Adelaide Enfield.
Future Leader of the Year: Harris Crettenden, Indigenous Land and Sea Corporation.
Professional of the Year: Neil Hewitt, founder of Precision Hydrographic Services.
All these winners — along with the recently announced winners from Victoria, NSW and Tasmania and Queensland — are now in the running for the prestigious Oceanic competition, as will be the soon-to-be-announced awardees from Western Australia and the Australian Capital Territory.
The Oceanic winners will be announced at the Locate Conference in Sydney in May 2024.