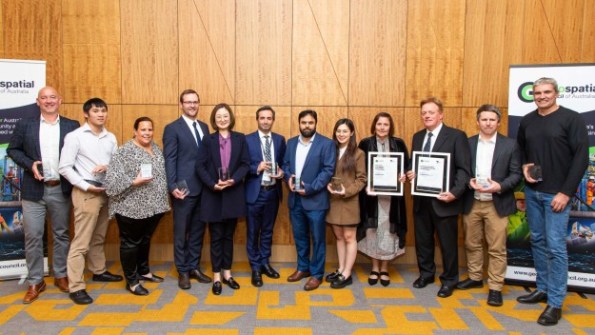 The Victorian winners of the 2023 Geospatial Excellence Awards were announced at a reception in Melbourne on 14 September, as part of Geospatial Council of Australia's Victorian Geospatial Conference.
The Awards, formerly the Asia-Pacific Spatial Excellence Awards, are presented once per year on a state/territory basis, with the winners going into the running for the prestigious Oceanic awards.
This year's winners are:
Community Impact Award — Veris and Cardinia Shire Council, for the Sealing the Hills project.
Environment and Sustainability Award — Spatial Vision, ThinkPlace and the Department of Climate Change, Energy, the Environment and Water, for the Environmental-Economic Accounts Dashboard.
Geospatial Enablement Award — The Department of Transport and Planning, for Vicmap 3D Buildings.
Innovation Award for Medium to Large Businesses — The Department of Transport and Planning and Archistar, for the eComply: Digital Twin for Building Compliance project.
Technical Excellence Award — The Department of Transport and Planning, for Pioneering operational Geo-machine learning at scale: Automated waste tyre detection across Victorian Agricultural Land.
Award for Workforce Development and Inclusion — Winyama, for its Indigenous Mapping Workshop Narrm.
Postgraduate Student Award — Mai Nguyen, Monash University.
Educational Development Awards — Davood Shojaei (University of Melbourne) and Nick Buzza (part-time teacher of surveying and spatial information services at TAFE NSW).
Diversity & Inclusion Award — Melinda Borg, Principal GIS Consultant at Advisian.
Future Leader of the Year Award — Oscar So, Geospatial Analyst at Australia Post.
Craig Sandy, Surveyor-General of Victoria, also presented two special awards:
Excellence in Geographic Place Naming Award — Joint winners – Barwon Coast for the Bukareeyoo naming proposal; and Mornington Peninsula Shire for the proposal to name the Pauline Powell Walk.
Sustained Excellence in Cadastral Surveying Award — Raymund Francis Earls
All these state winners — along with the recently announced winners from NSW and Tasmania — are eligible for the prestigious Oceanic competition, as will be the soon-to-be-announced awardees from Queensland, South Australia, Western Australia and the Australian Capital Territory.
The Oceanic awards will be presented at a Gala Dinner to be held as part of the Locate24 conference in Sydney in May 2024.