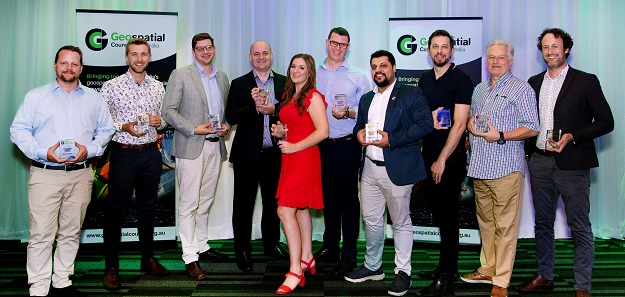 The Queensland winners of the 2023 Geospatial Excellence Awards were announced on 20 October at the Geospatial Council of Australia's Queensland Geospatial Conference and Awards Dinner.
The Awards, formerly the Asia-Pacific Spatial Excellence Awards, are presented on a state/territory basis, with the winners going into the running for the prestigious annual Oceanic awards.
This year's Queensland winners are:
Community Impact Award: Queensland Department of Environment and Science and GP One Consulting, for QWildlife Koalas.
Environment and Sustainability Award: The Australian Bureau of Statistics, the Department of Climate Change, Energy, the Environment and Water and Geoscience Australia, for the National Ocean Ecosystem Account.
Geospatial Enablement Award: FrontierSI, Queensland Department of Transport and Main Roads, Mapizy, Veris, the Australian Road Research Board and the University of Wollongong, for TMR Spatial Labs 2022.
Technical Excellence Award: Australian Spatial Analytics, Enzen and Energy Queensland, for the Legacy Asset Migration to Utility Network project.
Innovation Award for Small Business: Revelare Systems for their Spatial Enterprise Cloud Architecture project.
Workforce Development and Inclusion Award: TMR and GP On, for the Olympic and Paralympic Games Transport project.
Educational Development Award: Jennah Williams, Education Program Manager at Esri Australia.
Postgraduate Award: Mohammad Abbasi, PhD student at Griffith University.
Undergraduate Student Award: Kyran Cook, currently completing a Bachelor of Spatial Science at UniSQ.
Future Leader of the Year Award: Ben Dawes from Bennett + Bennett.
All these winners — along with the recently announced winners from Victoria, NSW and Tasmania — are now in the running for the prestigious Oceanic competition, as will be the soon-to-be-announced awardees from South Australia, Western Australia and the Australian Capital Territory.
The Oceanic winners will be announced at the Locate Conference in Sydney in May 2024.