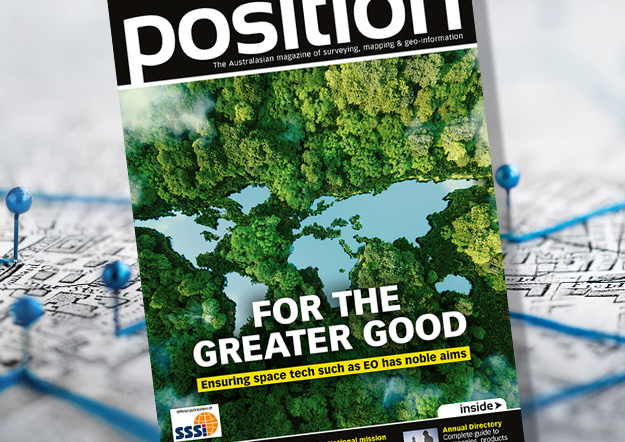 Here's what you'll find in the Dec/Jan 2022-23 issue of Position magazine, Australia's industry journal covering the surveying, geospatial, space, UAV, remote sensing, hydrography and mapping sectors.
Inside you'll find:
Our annual Leaders Forum — We asked leading industry representatives to dust off their crystal balls and prognosticate on what's to come in the year ahead. Hear from:

Martin Nix, Position Partners
Nick Pawley, C.R. Kennedy
Ruby Donaldson, Locus Australia
Felix Reinshagen, NavVis
Michael Dixon, Geoscape Australia
Claire Milverton, 1Spatial
Ben Berghauser, Onneer
Adrian Cleeve, Altavec
Lynnette Terrett, Rapid Map
Dr Lee Gregory, 12d Solutions
Robert Rowell, Insight GIS
Zack Wasson, Diospatial

Earth observation for the greater good — In our cover story, EY's Space Tech Leader, Anthony Jones, outlines why he thinks space technologies such as Earth observation should have environmental, social and governance goals built in from the start.
Up in the air?— What's up with Australia's new National Space Mission for Earth Observation? We ask space industry experts what they would like to see from such a program.
Practical AUSPOS tips and tricks — The powerful AUSPOS service is an essential element of Australian surveying — we present a guide on how to use it.
Data projects to inform geospatial priorities — Find out why the UK wants to improve land analysis and boost the use of location data.
Digitising the oceans —Digital data services were top of mind at the recent IHO Council meeting.
Annual Industry Directory — In this fantastic annual resource, we present 21 pages of companies and other organisations involved in all aspects of Australia's geospatial sector.
Plus, we have all the latest industry updates from our partner, the Surveying and Spatial Sciences Institute, as well as our regular news section, a full list of upcoming conferences and a survey of the latest products on the market.
Stay up to date with developments in the surveying, space and spatial sectors — sign up to Position magazine today via our subscription page.