South Australia's property planning system has come out on top in the Business Council of Australia's (BCA) new ranking of regulation across the states and territories.
The Regulation Rumble report presents a scorecard of regulation and red tape.
According to the BCA, "Businesses face duplication and inconsistency across the Federation. Frequent changes to laws and regulations, and a poor understanding from policymakers and regulators of the complexity, time and cost of implementing these changes, is adding to the pressure."
In addition, "The patchwork of regulation across the nation discourages investment and is a barrier for companies to expand and trade across state lines or overseas."
When it comes to property planning, the BCA has ranked the states and territories in order of best practice, finding that South Australia is the best and NSW the worst.
"South Australia ranks well in terms of speed and efficiency of assessment," the report says. "It has a single approach across the State, limited stop the clock provisions, and high levels of transparency. It does not however rank first in every metric, meaning that there remains room for improvement going forward."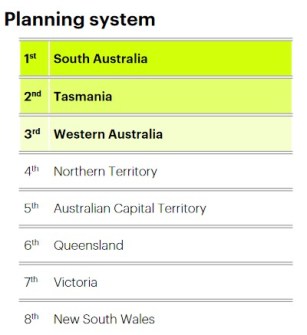 According to South Australia's government, in 2021 the state underwent the biggest modernisation of its planning system in two decades when it introduced a new Planning and Design Code and what it claims is Australia's first fully digital, 24/7 planning system, PlanSA.
The Planning and Design Code replaced 72 council development plans with one code.
The BCA says that "while NSW ranks highly in transparency, it is the equal last performer in terms of time required to make a decision, it provides low levels of certainty given the excessive stop the clock provisions, and delivers poor consistency across the state with local councils having significant individualised approaches to controls and documents."
The BCA does acknowledge that the "new NSW government has flagged the importance of housing supply. This presents an opportunity to reform the NSW planning system to address these issues and help drive improvements in the competitiveness of the nation's biggest state."
"We also acknowledge and applaud the fact that this is an issue identified for action across the nation by National Cabinet, with states like Victoria also flagging potential reform."