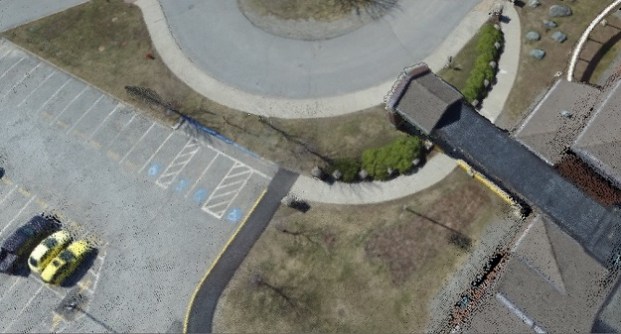 Pixels to Points is a photogrammetric processing tool within Global Mapper Pro that creates photo-textured 3D models, orthoimages and high-resolution point clouds via Structure from Motion (SFM) and Multi-View Stereovision.
Using overlapping UAV-collected images, these generated data models can be used in Global Mapper to measure terrain volume, assess structures, create detailed base maps and more.
The new version 25 release improves the Pixels to Points tool, including significant speed advancements to decrease processing time, and revisions to the Input Wizard to streamline your workflow further than before.
The Pixels to Points Input Wizard is designed to increase ease of use for existing users and make photogrammetric processing more approachable to new users with the streamlining of settings choices. Simply import your images and choose your most important output, including the option to run a quick output for quality assessment.
Global Mapper adjusts the Pixel to Points settings to match your input, providing an optional follow-up option to tweak the settings if desired. Use the primary dialog to add control points and assess more advanced settings such as masking and colour harmonisation.
With Global Mapper Pro's powerful point cloud processing tools, Pixels to Points provides a powerful and streamlined option for creating and editing your spatial data.
Global Mapper Pro's point cloud processing tools allow you to classify, extract vector features, create terrain data, and more, within the same workspace in which the point cloud was generated. Along with accurate automatic classification tools within Global Mapper, the Segmentation tool allows you to create dynamic, custom lidar classifications.
Many objects represented in point cloud data have a 'fingerprint' of shared characteristics between the points, such as intensity values, return number, normal, curvature etc. The Segmentation tool lets you classify by these parameters to extract desired features from the point cloud. Segment a cloud by colour to extract paint lines from roads or by curvature to separate areas based on changes in slope.
After classification, vector feature extraction tools can create 3D point, line, and area features to display structures, trees and powerlines present in the data.
Learn more about Global Mapper Pro and download a free trial at bluemarblegeo.com.