PARTNER FEATURE
Leica Geosystem's new AP20 AutoPole with tilt compensation is providing productivity improvements for in-the-field surveyors.
Webster Survey Group is a family-owned and -operated business that was established by Neil Webster in the late 1970s. The company is based in Eltham, a north-eastern suburb of Melbourne, and undertakes work all over the metropolitan region as well as rural Victoria.
The company's clients include architects, engineers, builders, developers, legal practitioners, councils, service providers and real estate agents. Being licensed land surveyors, Webster Survey Group is heavily involved in cadastral surveying.
"Land surveying equipment has evolved dramatically over the last 30 or so years with equipment and technology becoming increasingly advanced and digitalised," says Evan Webster, the company's director. "Today we use equipment which can measure to the most amazing accuracies and we are always striving to achieve perfect results."
Webster Survey Group is a heavy user of Leica Geosystems solutions supplied by C.R. Kennedy. Evan says his relationship with the two companies began years ago.
"I was travelling through Europe and found myself within proximity to Leica's headquarters in Switzerland," says Evan. "I sent a general enquiry to Leica asking if it was possible to visit, and my email was received by C.R. Kennedy in Melbourne."
"C.R. Kennedy were only too happy to help facilitate the visit and a short time later I found myself being warmly welcomed by Leica. I was fortunate to spend a day touring through their showrooms and factories."
Evan says the first Leica total station he used was an 1100 model, and over the years the company has used many other models, such as 1200s, TS 15s and TS 16s.
"Adapting to new technology is important as this allows us to expand our range of products and services and meet the changing needs of our clients," says Even.
"We have progressed from using mainly total stations to using a range of different surveying equipment including GPS units, laser scanners and drones, and we also have a 360-degree panoramic camera that we use to provide virtual site inspections."
Webster Survey Group's most recent purchase from C.R. Kennedy is Leica Geosystem's AP20 AutoPole.
Made for productivity
Leica Geosystems describes the AP20 AutoPole as a "unique and productivity-boosting smart solution" for the company's robotic total stations, "removing the last analogue steps" in users' digital survey workflow.
The company says it saves time spent on-site and "reduces cumbersome post-processing corrections in the office" with three powerful smart features.
The AP20 AutoPole enables users make measurements with a tilted pole, providing automatic height readings and enabling target search and locking. On-site obstacles can be overcome by adjusting the height and tilting the pole to reach hidden points, quickly re-establishing line of sight and relocking to the robotic total station, even with multiple surveyors working simultaneously.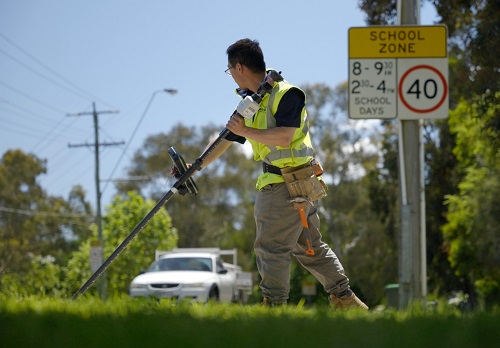 Tilt Compensation removes the need to level the pole, meaning the user can measure and layout more points per day, conveniently and comfortably, while maintaining high standards with control and clarity over the point quality. The Tilt Compensation feature enables point measurements with an arbitrary aligned pole, and therefore increases flexibility and productivity in the field to enable even upside-down and nearby hidden-point measurements.
The PoleHeight functionality updates height automatically as the pole height changes, to ensure reliable and accurate measurements. This removes the need to read, check and enter height changes, and eliminates time consuming post-processing efforts to fix incorrectly entered or forgotten target heights.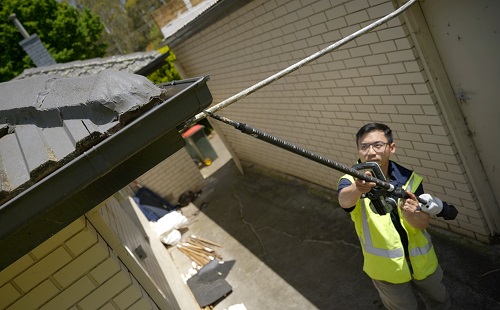 The AP20 AutoPole's TargetID feature enables automatic target search, identification and lock on the target, prevents locking to foreign targets and avoids work interruptions that can occur on a busy site, which is especially important when there are several surveyors working simultaneously at busy locations.
Depending upon use, the AP20's exchangeable lithium-ion battery can provide operating times in excess 16 hours. The whole unit, including battery, weighs only 500 grams.
Putting it to use
The AP20 AutoPole solves three common workflow problems surveying and construction professionals face daily: entering the pole height manually into the field software, having to level the pole, and accidentally locking to a foreign target at a busy site.
When using the unit, the base of the prism pole is positioned at the location to be measured. Evan says that "The great advantage is that the pole no longer has to be held straight and you are able to lean it in any direction while measuring. It allows us to measure points that previously were impractical or not safe to measure."
He adds that while Webster Survey Group has used the AP20 for different tasks, they've found that it provides the greatest advantage when undertaking feature and level surveys.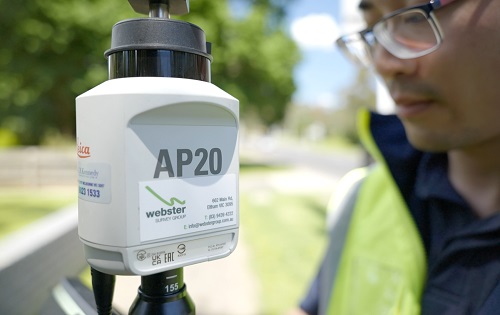 "Previously, sending a one-person survey crew and robotic total station to carry out a feature and level survey, as opposed to a two-person crew, always had an element of risk in case obstructions were encountered such as overgrown vegetation or inaccessible areas," he says.
"The AP20 eliminates this risk as a one-person crew can generally capture all the information needed and in a shorter timeframe."
Evan also points to the AP20's safety benefits.
"Direct measurements can now be obtained for road features such as kerbs and channels while standing well back from the roadway, or for the top of retaining walls and steep embankments," he says.
"This piece of equipment has been exciting and proven to be very valuable."