As technology pushes us further into the digital world, the ability to accurately capture, render and sell reality-derived products is becoming critical to a range of modern businesses. For some, traditional media of recorded video and still images is getting replaced by 3D spatial data. The ever-increasing flexibility, quality and accessibility of 3D data boost the end consumer's desire for more immersive and engaging to present and experience that data.
Geospatial tech company Aerometrex has seen a rapid expansion in novel uses for high-resolution 3D data underpinning modern business processes. Below are three developing markets for 3D data.
Reality powering the metaverse
High-resolution 3D reality mesh is an ideal dataset for large-scale and monetised metaverse platforms.
Terrestrial Software Development purchased a data license for Aerometrex's San Francisco 3D model as a foundational part of their Lunaverse.io platform. The 3D reality mesh is draped over the base level-of-detail models to create a spatially and visually accurate rendition of San Francisco.
An ultra-realistic sense of location is fundamental to the Lunaverse business model, selling users access to a virtual version of a familiar and desirable location and then building an e-commerce system around it. Accurately recreating San Francisco is a crucial draw into Lunaverse, and Aerometrex's high-resolution 3D data enrich the platform by connecting the real world to the virtual one.
Lunaverse's platform has an internal economy that involves selling real estate through non-fungible tokens. Having accurate versions of real-world locations underpins the sale of virtual real estate. The internal Lunaverse economy will have the same forces of San Francisco's actual real estate acting upon it, including a range of desirability, including location, physical structure features and speculation on future value.
The geospatial industry and metaverse platforms will see closer collaboration in the future as the real world's reproduction becomes central to a platform's setting.
Immersed in 3D
Immersion by Light ADL is a mixed media experience that integrates interactive geospatial data into entertainment. It's another example of advanced hardware matching with high-resolution data delivered as a ticketed experience to the general public. Immersion's place in South Australia's Bloom 2021 Festival enables the general public to actively engage with 3D reality mesh.
The focal point of Immersion is 'the Ellipse,' a 360-degree oval screen that puts the audience in the centre of Australia's 50-million year origin story. Immersion's climax is Aerometrex's 3D reality mesh model of Adelaide that virtually places the audience on Light Square at Light ADL's real-world location, where motion tracking lets them throw virtual paintballs over the model.
The Ellipse's hardware's current role in Immersion transitions back to its ongoing use as a light stage for media production, including more geospatial data wrapping people in renditions of the real and virtual worlds.
Next generation presentations
The Adelaide Convention Bureau (ACB) commissioned Aerometrex to make a high-resolution 3D reality mesh model of Adelaide's CBD with areas of street-level enhancement as the centrepiece of its bidding process that draws lucrative events to their facilities and the city. The ACB has incorporated rendered reality as a point of difference against competitors and made a novel presentation style that showcases the City of Adelaide.
A scripted flythrough of the Aerometrex model shows the Adelaide Convention Centre and surrounding districts in detail. Suitable accommodation, dining, recreation and tourism areas are highlighted to the particular audience.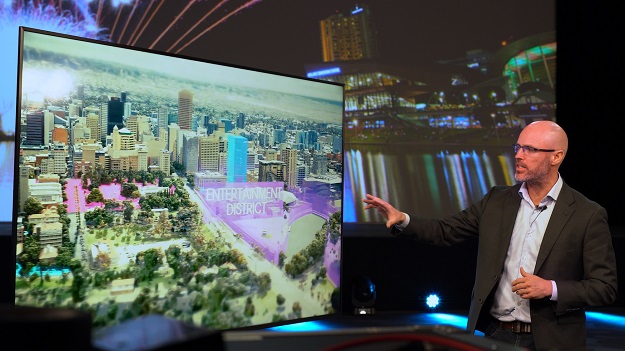 Nick Mercer, ACB's General Manager of Sales and Marketing explained how the 3D data changes its bidding capabilities:
"This is a game-changer for us. We see ourselves as storytellers, and each individual bid is an individual story. This model gives us the ability to create those individual stories. We can tailor the graphics that we put up, the story, the flight path, and everything is flexible with this model. Nothing is stopping us from getting out there and securing as many national and international bids as our business development team can come up with."
For the ACB, Aerometrex's model overcomes distance and travel restrictions by placing the audience in Adelaide from anywhere in the world. It's a powerful staging environment for years of bidding presentations.
Ready for reality
Aerometrex's 3D capabilities and capture program are expanding globally, ready for the imminent expansion of desire for data from traditional and emerging industries.
Go to www.aerometrex.com.au to learn more about Aerometrex's services.