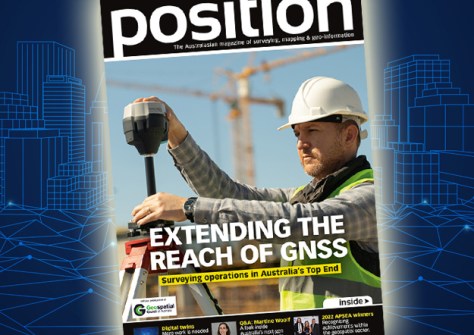 Here's what you'll find in the June/July 2023 issue of Position magazine, Australia's industry journal covering the surveying, geospatial, space, UAV, remote sensing, hydrography and mapping sectors.
Inside you'll find:
Inmarsat awarded $187.4m SouthPAN contract — From 2027, Australasia's SBAS will be boosted by signals from one of Inmarsat's new I-8 satellites.
Extending the reach of GNSS — The highly affordable Emlid Reach RS2+ multi-band RTK GNSS receiver is working wonders in Australia's Top End.
Q&A with Martine Woolf — Martine Woolf leads a team of Geoscience Australia experts who are implementing Australia's next-generation positioning projects.
A game-changer for 3D laser scanning — The Leica Geosystems BLK2GO handheld imaging laser scanner is turning impossible jobs into 'walk in the park' jobs.
Space and spatial combine at Locate — The convergence of the space and spatial sectors was on full display at the Locate23 conference.
APSEA recipients are forward thinkers — Worthy individuals and organisations have been recognised with receipt of the industry's premier awards.
Severe workforce shortage set to worsen — The shortfall in the surveying and geospatial sector will reach nearly 1,400 professionals nationally by 2024.
Q&A with David Ball — Lockheed Martin Australia's Regional Director outlines the company's growing space activities in Australasia.
Survey on standards for spatial digital twins — More work needs to be done to properly employ spatial standards for the development of spatial digital twins.
Nearing the end of the speed-accuracy trade-off — How the 3D laser scanning industry stands to benefit from hybrid reality capture.
Solving a maritime mystery — A CSIRO project team has confirmed the location of the wreck of MV Blythe Star, bringing an end to a 50-year mystery.
Assessing alternatives to GNSS for PNT — Technologies able to provide precise time and position without the use of navigation satellites, have been put to the test.
This issue also contains the latest updates from your new Geospatial Council of Australia (GCA):
CEO's Column — Tony Wheeler offers his reflections on the Locate23 conference, the winners of the 2023 APSEAs, and the launch of the 2030 Space + Spatial Industry Growth Roadmap.
Hope for the future — The Geospatial Council of Australia asked a range of geospatial professionals to volunteer their opinions, insights and hopes for the future of the sector.
Recognising Excellence — The Geospatial Council of Australia recently honoured Associate Professor Petra Helmholz and Warwick Hehir with prestigious Fellow status.
Plus all the latest industry news, a full list of upcoming conferences and a survey of the latest products on the market.
Stay up to date with developments in the Australian surveying, space and spatial sectors — sign up to Position magazine today via our subscription page.