The Melbourne Airport presents a spatial management challenge as Australia's largest and still-growing industrial park and the nation's second busiest airport. There's a substantial need for data precision, volume and frequency to ensure the airport maintains operational capacity and manages the rapid development. That's why Melbourne Airport chooses multiple spatial data services from Aerometrex.
Melbourne Airport's GIS Manager Dustin Edge spoke about why he chose Aerometrex's MetroMap aerial imagery subscription and aerial-captured LiDAR and the benefits that spatial data will bring over time.
Metromap aerial imagery for the ever-changing environment
Melbourne Airport uses MetroMap in two ways, the first being MetroMap's native browser-based platform and the other being the airport's own GIS portal which pulls in MetroMap data. This flexibility to use imagery compounds the value of the MetroMap partnership because the product packages suit multiple end users' needs.
MetroMap aerial imagery in the GIS portal replaced the airport's legacy CAD drawings as a schematic representation of the precinct. MetroMap's aerial imagery now provides precise geolocation, a more accurate rendition of the real imagery, and change monitoring over time with the historical imagery and frequent captures.
Within the precinct, MetroMap's high-resolution, frequently captured imagery is critical for current and future operations. The imagery lets Melbourne Airport monitor beyond its boundaries, including surrounding roads and buildings that could affect operations.
"When we have real imagery to work with, we can see developments clearly and thus plan better and speak to our clients in a much better manner. For us, obtaining frequent imagery is critical, whether it's for the airfield or the business park," says Dustin.
Airport Operations rely on MetroMap imagery's fine detail for simplified asset monitoring over time, especially the airport's runways.
"We do a lot of work on the runways — our aprons and taxiways are changing, and we need to show that in snapshots over time. We monitor cracks in pavements for safety and assess how much we're patching over time, and whether we're patching small or large sections," adds Dustin.
The airport's Airfield Team uses MetroMap imagery to model future activities and test viability before making significant investments. Imagery is the ideal background layer for testing any airport development.
The Business Park has significant spatial management needs, and the planned developments will see it grow. "From the Business Park's perspective, we have a lot of operating tenants including warehouses and businesses, so we need frequent high-resolution imagery. This data helps us show the landscape changing because we are constantly building. Half of it is still green fields so we have a lot of development to go," explains Dustin.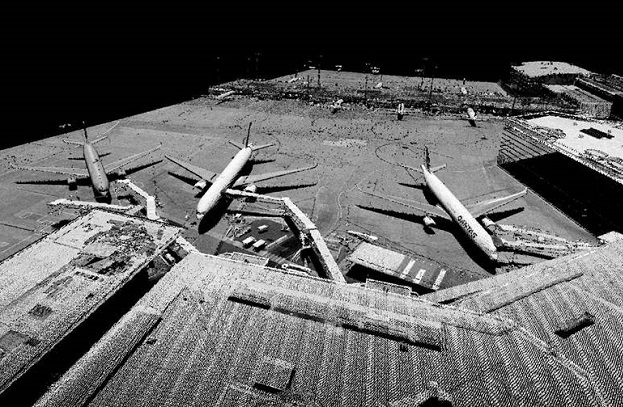 LiDAR – Keeping the airport running safely
The Civil Aviation Safety Authority (CASA) has stringent safety standards that airports must adhere to, for which precise spatial data is crucial validation. Dustin explained just how vital the LiDAR capture was for Melbourne Airport, and indeed any airport.
"The LiDAR capture played an integral role in a compliance reporting to CASA. If we don't meet compliance, we run the risk of losing our aerodrome licence or being downgraded. It was that level of importance. One of the reporting criteria is to prove that our runway, aprons, and taxiways are effectively flat at 1% grade or less."
The Melbourne Airport LiDAR can now give accurate data by request when required, and Dustin is expecting the resolution to provide them with all of the detail they need for compliance.
"At 16 points per metre the triangles are really small. So that gives you that level of confidence that our runway is in good condition. We can report back in much better detail from that resolution. So that was the reason I wanted the LiDAR."
Melbourne Airport is challenging to capture from both aerial and terrestrial platforms. The solution was a single nighttime capture when the airport isn't functioning. LiDAR scanners capture as accurately at night as during the day. The entire capture was completed within a single sortie by Aerometrex, with rapidly processed data.
"From one capture and a week of processing, we've got all the runways, aprons and taxiways. Now I could do the slope analysis on any part of the airfield I wanted. I can just pull up a cross-section anywhere I wanted and generate that data," explained Dustin.
Information provided by Aerometrex.
LEARN MORE