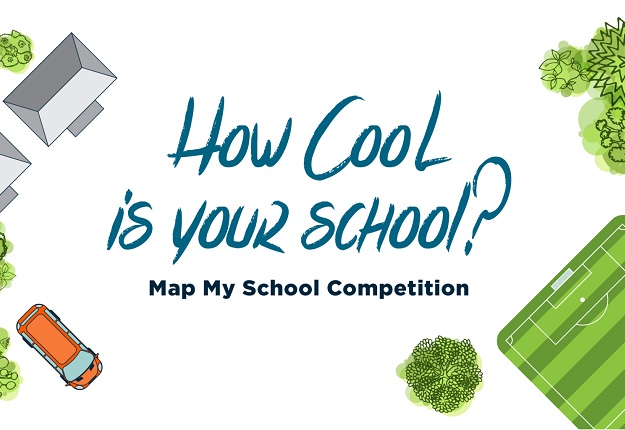 An Australian-first school mapping competition aims to combat significant health and safety risks to children caused by thermal stress, while also teaching kids about spatial technologies.
She Maps, a national social enterprise committed to breaking down gender biases in STEM fields, has launched the fourth round of its annual How Cool is your School? competition.
Established in 2019, the Australian-first initiative encourages students to use satellite data to create a map meeting cartographic (mapping) conventions, and then calculate the percentage of green shade on their school grounds, with this map then forming the students' competition entries.
The She Maps 'How Cool is Your School?' competition is open to all students from Kindergarten (Foundation) through to Year 8, with prizes of DJI Tello drones awarded to individual winners in each school year level for the best map that meets cartographic conventions.
"We ask the students to map the amount of shade at their school to help bring the focus on sustainability and the importance of trees as a natural air conditioner in the school environment," said She Maps CEO, Paul Mead.
"The competition challenges students to come up with some solutions to maybe make their school a little bit greener and more of an inviting space to learn and play," he added.
"The average percentage of shade found at Australian schools is approximately 20%, our goal is for this figure to increase to 30% by 2030."
Emerging evidence suggests that heat has a negative impact on learning, including lowering "cognitive capacity under thermal stress" and poses "significant health and safety risks to children".
The School Microclimates Report, conducted by Associate Professor Dr Sebastian Pfautsch at Western Sydney University, has also found rising temperatures and the increasing frequency of extreme heat events across Australia pose "significant health and safety risks to children, yet little is known about thermal comfort of students and teachers in Australian schools".
"Increasing summer heat represents a hazard for children," said Dr Pfautsch.
"Creating cool outdoor spaces in schools where children can learn and play safely during summer must become standard."
"The objective of this competition is to establish student confidence, teacher capability, and industry connection as part of a longitudinal approach to creating the future geospatial workforce," added Mead.
"This competition is one of a number of initiatives supported through our ongoing partnership with The Surveyors' Trust."
Last year, the 'How Cool is your School?' competition surpassed expectations with 573 student entries and 900 teacher registrations from schools across Australia.
She Maps is now appealing to the corporate sector, charity groups, philanthropists and the community at large to throw their support behind its 'How Cool is your School?' competition.
"Greenline, Australia's leaders in custom made shade structures for schools, councils and sports clubs, is sponsoring an incredible $7,500 in prizes, that's three She Maps Classroom Drone Essentials programs, for one school in each state of New South Wales, and Victoria and the Australian Capital Territory," said Mead.
Bennett & Bennett, a long-established South-East Queensland surveying, town planning and spatial solutions organisation, has committed to sponsoring a She Maps Classroom Drone Essentials – Online Together program valued at $2,500 for one Queensland school.
"And we are most grateful for the continuing support of our sponsor NGIS, a leading provider of geospatial solutions in the Asia-Pacific region, which has doubled its sponsorship in 2022 to two She Maps Classroom Drone Essentials programs valued at $5,000 to two West Australian schools, with the goal of extending support to regional areas," said Mead.
"We are now especially hoping to attract prize sponsorship support for the Northern Territory, South Australia and Tasmania."
Teacher registrations for round four of the competition have opened already and final entries will be accepted until 5:00pm on Friday, 1 July 2022.
Those interested in becoming a sponsor should email Jules Blundell at jules@shemaps.com.
Stay up to date by getting stories like this delivered to your inbox.
Sign up to receive our free weekly Spatial Source newsletter.