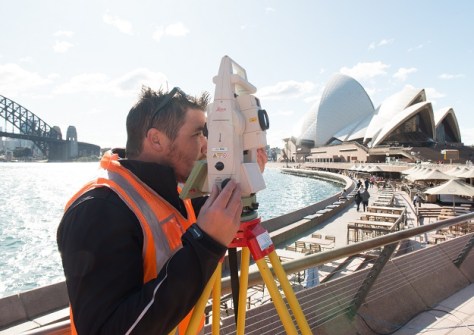 PARTNER FEATURE
How C.R. Kennedy and Leica Geosystems helped an Australian firm grow from a 'one-man band' to a staff of 20.
Matt Jordan began his own surveying company, Road and Civil Surveys, in 2016 as a 'one-man band'. Having previously used a particular well-known brand of surveying equipment for around 10 years, he went ahead and invested a lot of money in that equipment for his new business. But six months in, "I quickly realised that I wasn't going to get on any of the big road jobs if I didn't have Leica Geosystems hardware," he said.
According to Matt, in the transport and infrastructure space in which Road and Civil Surveys (rcsurveys.com.au) operates, effectively everyone uses Leica equipment.
"From the client standpoint, if they have a need for 15 or 20 surveyors, they don't need them coming in with all different platforms," he said. "You want to get everyone working on the same system, so that it's all the same datasets, it's all the same answers."
"If I set up my Leica total station with my 12D Field and I've got my data in my hand, I can get a guy who has exactly the same systems to set up in exactly that same spot the next day and achieve the same results. But when you have different systems — some people using X brand and some people using Y brand — the datasets are different, you have different outputs."
Which is why Matt quickly began replacing the other brand's equipment with Leica Geosystems hardware.
"I called C.R. Kennedy and got a really good deal. That was in 2017. I purchased a Leica TS16 with a GS16 GPS unit and the Panasonic with a 12D Field on it, and started learning and growing from there," he said.
Repeat after me
According to Nathan Thompson, NSW Geodesy Sales Manager for C.R. Kennedy, "Leica is at the forefront purely based on its precision, reliability and durability. The equipment is designed for smart, innovative surveyors."
"When you're buying surveying equipment, you need it to be reliable and repeatable, and that's what Leica does," he added. "Leica's slogan is, 'When it has to be right'. And when you're pouring lots of concrete or building big structures, they need to be done to millimetre precision."
Matt agrees. "It's getting the job right, getting the information right the first time. You want to be giving your client the right answer and not having to set up the next day and it's, oh, a couple of millimetres this way and a couple of millimetres that way."
"I've just found the repeatability of the Leica equipment to be amazing," he added. "It gives you a sense of confidence on site."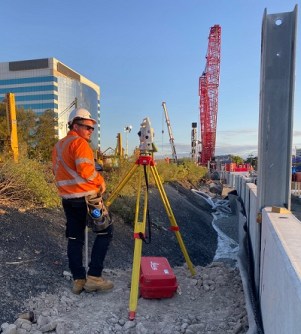 Matt says that once his business switched to Leica equipment, it was able to scale and grow with its clients' needs.
"The type of clients we could go for were dictated by the scale of their projects and the sort of suppliers they wanted to work with. As Road and Civil Surveys grew, we could take on bigger projects and offer the same quality service to all of our clients."
Road and Civil Surveys now has a staff of 20 in Sydney and Newcastle working on transport jobs, and effectively from top to bottom they are all Leica users (e.g. TS15 or TS16 total stations).
Scanning for opportunities
By 2020, Matt's business began needing to provide scanning solutions for the projects it was working on, so he purchased a Leica RTC360. "Leica has other scanning equipment, such as handhelds. But because of the jobs that we were doing, we only needed an RTC360, which gives us a really good solution on site," he said. "We use well-braced survey control networks to make sure that the point clouds and the string extrapolation is all cross-checked. It's a really good instrument and a fantastic value-add to our business."
"Mass data capture is what engineers want to see, and to visualise the data in proper 3D. Once they've seen this information, they're always going to want more. If they're not keeping up with technology, then they're falling behind," added Nathan from C.R. Kennedy.
"When I joined C.R. Kennedy, we started out with a laser scanner that was 50,000 points per second, and at that the time that was a lot of data," Nathan said. "Now the latest scanner is so light, it's just a case of putting it on a camera tripod, hitting 'play,' letting it spin for two minutes, and then move to the next point and make sure you have 30–40% overlap. That's how simple it is."
The scanning has been so successful that Matt acquired the Leica Cyclone software suite and set up another business in 2021, called Geotwin, for the digitisation of land and structural assets. While Road and Civil Surveys operates in the large road and rail and heavy infrastructure sectors, Geotwin operates in the smaller AEC sector, where it does a lot of photogrammetry with a DJI drone, also purchased from C.R. Kennedy.
There is also an important safety aspect to these solutions. "We're in a high-risk environment for staff on site," said Matt. "With the drones and laser scanners, we can remove a lot of that risk from projects. By using the RTC360, we've been able to do a lot of detail surveys where I'm not asking my personnel to be on live roads — it's nice to be able to set up off to the side."
Teamwork makes the dream work
Matt credits the rapport he has built with the team at C.R. Kennedy for helping his business to flourish.
"We've scaled up from a small family business, and we wouldn't have been able to do it without C.R. Kennedy and Leica Geosystems. It's been a great relationship," he said.
"When we started out, Nathan would always pick up the phone and help me. He saw the strategy behind our business and where it was going to go," Matt added. "And anytime something new comes onto the market that might value-add to our business, he'll always give us a call and let me know about it."
For more information on Leica Geosystems solutions, contact C.R. Kennedy.