Increased remote-area rescues during the COVID pandemic have shown the value of ESTA's Emergency Markers.
By Lyn Terrett
The advent of COVID-19-induced isolation, working-from-home and travel restrictions have put pressure on emergency responders as people have chosen to get out and explore remote national parks and waterways to obtain exercise and recreation. In 2020 and 2021, the number of emergency responses to remote locations escalated for organisations like Ambulance Victoria.
But locating people in distress remains a big problem. While coordinates can be estimated from incoming calls, 'what3words' and the new Advanced Mobile Location function, it does not solve the major challenge that emergency responders face — locating people in hard-to-find areas that have no formal address. Many tracks and trails do not have names, so what happens when the incident is at the top of a cliff and responders end up heading to a coordinate at the bottom of the cliff?
Experience has shown that while a police air wing might send a coordinate reference to the ground, there is no way for ground crews to know how to navigate to locations where tracks and trails are narrow, steep and have restricted access… especially in the dark.
In addition, GPS and mobile phone reception are easily compromised in remote locations, and accuracy can be significantly in error for many reasons. In many places there is no mobile phone coverage at all.
That's where ESTA Emergency Markers come in. Unique to Victoria, these green signs with their alpha numeric codes have been mapped and their spatial data carefully structured to give responders the best chance of finding the person in distress. Surf Life Saving Victoria, for instance, recommends the inclusion of the markers at every beach access point and inland waterway, due to the increasing use of beaches during the pandemic. Members of the public are encouraged to photograph them as they pass them by.
"People need to consider where they are when they go to remote open spaces. ESTA Emergency Markers give definitive information to tell the Triple 000 call-taker," said Karl Morrison of Ambulance Victoria's GIS division. "The unique code on an Emergency Marker has been associated with a series of directional instructions to describe the process to follow to get to track-with-no-name, and locations like beaches and mountain bike trails, with no address."
To have an ESTA Emergency Marker location captured and registered requires expert mapping services in the first instance, to collect the unambiguous directional instructions in conjunction with the spatial objects for ESTA's GIS and computer-aided dispatch (CAD) system. The field survey is conducted by RapidMap, which has worked with ESTA for more than a decade to create unambiguous guidance using authoritative datasets (such as 'nearest intersection') as a foundation. Obstacles and observations are carefully constructed to create segments and trajectories and textual intelligence for CAD.
The one-off field mapping and office data preparation has been streamlined by RapidMap's GIS data analysts to serve data directly from the Summit SDI (built by the company's Iconyx division) to ESTA in a ready-to-use format.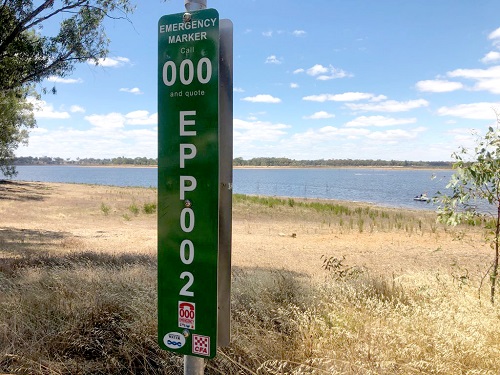 ESTA Emergency Markers not only save time and lives, but they also provide an excellent way for land managers to mitigate risks in remote locations and other areas such as construction zones. They're also ideal for sharing information on how to access and protect remote infrastructure such as communications towers or transmission corridors. Every local government, utility and state government land manager responsible for large regions used by the community should have ESTA Emergency Markers installed to provide the best chance for rapid response.
You can see many interviews with ESTA, Parks Victoria, beach and rail trail land managers and coastal management committees, as well as Ambulance Victoria and other responders, on the Iconyx YouTube channel (https://bit.ly/3twO3a7).
Very soon, we hope to share additional map data insights with people via a Meet Me At the Marker (MMATM) program, where land owners can share directional messages with colleagues, environmental managers, cultural heritage officers and biosecurity contractors.
For more information about how the ESTA Emergency Marker program works, please visit emergencymarkers.com or email emergencymarkers@rapidmap.com.
Written by Lyn Terrett, Director, RapidMap and its Iconyx division, on behalf of ESTA.
This article was first published in the Apr/May 2022 issue of Position magazine.
Stay up to date by getting stories like this delivered to your inbox.
Sign up to receive our free weekly Spatial Source newsletter.