Spatial and space industry delegates will gather in Adelaide in May for Australia's leading geospatial event.
By Jonathan Nally
The Australian geospatial industry's most important annual event, Locate, is on once again, this time in Adelaide from 10-12 May 2023 and with a distinctly spacey feel. With the city now recognised as the nation's 'space capital' — home of the Australian Space Agency, the SmartSat CRC and numerous space-related companies — and with the ever-growing nexus between the spatial and space sectors, it makes sense that Locate23 will be held in Australia's new space heartland. The theme will be 'Geospatial Evolutions: From lands to seas to stars'.
The recent launch of the 2030 Space+Spatial Industry Growth Roadmap (see page 31 of this issue) has put into stark focus the opportunities and challenges presented by the close relationship between the two sectors. No doubt the Roadmap will be a source of much discussion and conversation at Locate23.
A reflection of that growing relationship is the fact that Locate23 will be held immediately following the Australian Space Forum (9 May, at the same venue). Further, a special Space & Geospatial Workshop will be held on Wednesday, 10 May, between 9:00am and 1:00pm. This will be a chance for professionals from the space and spatial sectors to come together to share views and explore opportunities for working together in fields such as PNT (positioning, navigation and timing), Earth observation and telecommunications. You can find more information about the Workshop here.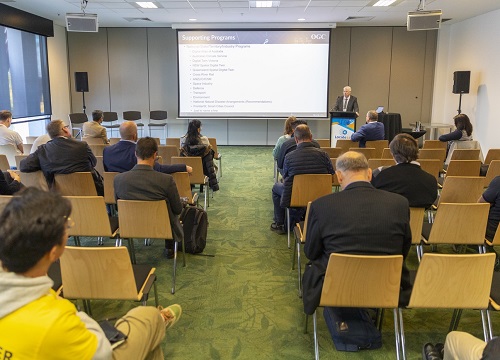 Workshops
Locate23 will kick off on Wednesday, 10 May, with the aforementioned Space & Geospatial Workshop, plus a full day of other workshops covering a wide range of topics:
Young professionals, students and early careers researchers
Geospatial data validation
Learning FME basics
Victoria's digital cadastre modernisation project
Digital twins
Digital transformation
Building tomorrow's workforce
3D land cover across Australia, and more.
Day one will end with a welcome reception and a special gathering to mark the launch of the Geospatial Council of Australia, the new national peak body formed from the merger of the SSSI and SIBA|GITA.
Speaker sessions
The second day, Thursday, 11 May, will begin with an introduction from Enrico Palermo, Head of the Australian Space Agency. That'll be followed by a panel session comprising Alan Duffy (Swinburne), Bradley Slape (SA Surveyor General), Jennifer Brindle (Precision Hydrographic Services), Melissa Harris (ANZLIC) and Palermo.
Concurrent speaker sessions will begin after morning tea, split into five streams: Hydrographics, progress and partnerships; Climate change and resources; Cadastre futures; Data as an asset; and Spatial digital twins. Delegates will hear from (not a complete list):
Andrew Coulls, Australian Hydrographic Office
Dr Claire Fisk, FrontierSI
Bradley Slape
Nicholas Car, Kurrawongai
Chris Body, Open Geospatial Consortium
Scott Miller, Fugro
Ferlisa Valentine, Water Authority of Fiji
David Pullar, University of Queensland
Andrej Mocicka, 1Spatial
Paul Digney, Jacobs
Stafford Smith, Data61
Sara Pulford, South Australian State Emergency Service
Steven Henderson, Woolpert
Topics covered will range from spatial improvement of digital cadastres to AI assisted agriculture, digital twins in rail operations to building trust in foundation data, partnerships in the Pacific to the Hydroscheme Industry Partnership Program, BIM to coastline monitoring, and many more.
The morning tea and lunch breaks will see the presentation of a series of tech talks and case studies, covering natural disaster assistance to airborne LiDAR bathymetry, 3D modelling of power networks to the evolution of survey data capture, and more.
The final session on the second day will comprise a plenary presentation followed by a panel session, all focusing on diversity and inclusion and tackling topics such as neurodiversity and advancing gender equality. Participants will include Geoff Smith (Australian Space Analytics), Hilary Thompson (Australian Geospatial-Intelligence Organisation) and Maurits van der Vlugt (SSL-DLN).
Day two will end with pre-dinner drinks, followed by the annual Asia-Pacific Spatial Excellence Awards (APSEA) presentation and gala dinner. This is always a fabulous opportunity to mingle and socialise and, through the awards, to celebrate outstanding achievements made by individuals and groups within the sector.
Day three
The third day of the conference will commence with a plenary session focused on research and innovation. Delegates will hear discussion on topics ranging from the use of geo-technology in the wine industry, to governments' role in responding to and enabling emerging trends.
The concurrent sessions will continue with another with a range of presentations, from protecting coral reefs to IoT sensors, from using spatial for unlocking biodiversity data to building a 'dream team,' from smart roads to calculating work travel distances from Census data. The speakers will include (not a full list):
Shaun Falconer, Accenture
Michael Dixon, Geoscape Australia
Alex Mckeown, Integrated Marine Observing System
Dr Davood Shojaei, Melbourne University
Dr Rajendra Shilpakar, Department of Regional NSW
Roshni Sharma, FrontierSI
Bradley Rasmussen, Sizztech
All speaker sessions over both days will conclude with 10-minute panel discussions.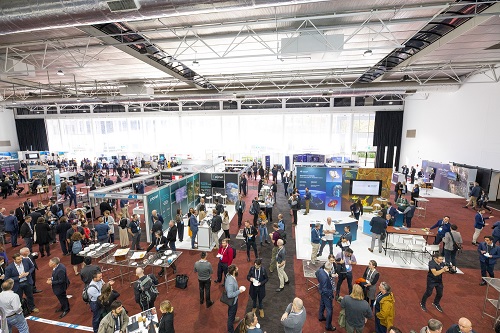 The morning tea period will once again feature tech talks and case studies, covering the challenges of deploying digital transformation efforts, and creating a digital twin using UAV-collected data. The lunchtime talks will cover creating engaging GIS experiences, the UK's experience of data assurance for the environment, using AI for smarter and safer roads, and a 'data lake' for South Australia's government.
The very final session of the conference (prior to the closing ceremony) will look into the future with plenary presentations by Alan Smart (ACIL Allen Consulting), who will be interviewed by Dr Zaffar Sadiq Mohamed-Ghouse, and Joseph Seppi (Woolpert).
For full details about the conference, including speakers, workshops, other activities and exhibitors, along with registration details, visit locateconference.com.
What: Locate23: The Geospatial Event
When: 10–12 May 2022
Where: Adelaide Convention Centre
Web: locateconference.com