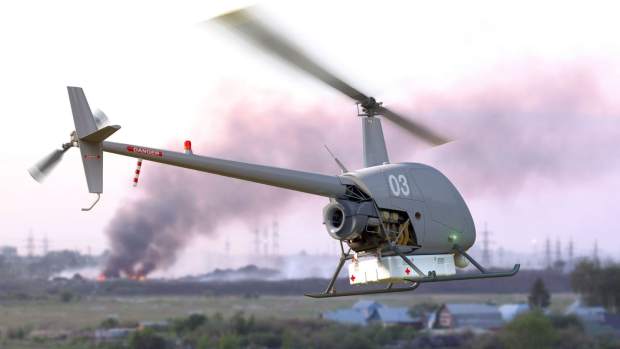 Multinational unmanned aerial, ground and surface vehicle company UAVOS has converted a Robinson R22 manned helicopter into unmanned aircraft R-22 as a long-range cargo delivery drone. It features a payload capacity of 180 kilograms or 400 pounds and a travel distance of up to 1,020 km.
The R-22 unmanned helicopter is designed for both cargo delivery and humanitarian / disaster relief applications. Failure to deliver vital equipment under austere operating conditions and timelines can incur substantial fiscal costs, making the unmanned Robinson's all weather capabilities particularly valuable. This also opens up new possibilities for safely and efficiently transporting goods in a variety of industries.
Another is the disaster relief mission – where the R-22 can bring food, fuel, water, supplies, medicine, communications and even electrical power to areas that are hard-hit by natural or man-made disasters.
Capabilities of the heavy-lift cargo R-22 unmanned helicopter
Due to its long endurance capability (6 hours), and ability to operate in harsh weather conditions in both land and maritime environments, the R-22 can…
Operate in high winds, during weather-related disasters, and night operations.
Carry a cargo load of up to 180 kilograms or 400 pound.
Drop its cargo at the specified location. The R-22 can be used in numerous missions and scenarios requiring cargo delivery such as providing life-saving measures (communication device, a bottle of water, floating device, etc.) in search and rescue (S&R) missions, dropping of essential material such as drugs in an epidemic situation, etc.
Deliver cargo to the most remote parts of the Earth.
Transporting goods taken from a large cargo aircraft, which allows for a 'pop-up' distribution centre at an airport, where the R-22 can land, cargo handlers can unload the cargo and then R-22 back-hauls cargo to the main logistics centre, transporting goods taken from a large cargo aircraft.
Operate over all terrains.
Specifications of the Robinson UAS platform include:
Take-off and landing: fully automatic.
Level surface: 15x15m.
Maximum cruising speed: 160km/h.
Payload with full fuel tank: 40kg.
Max. take-off weight: 635kg.
Operational range: 1,020km.
Endurance: 6 hours.
Service ceiling: 4,200m / 14,000 feet.