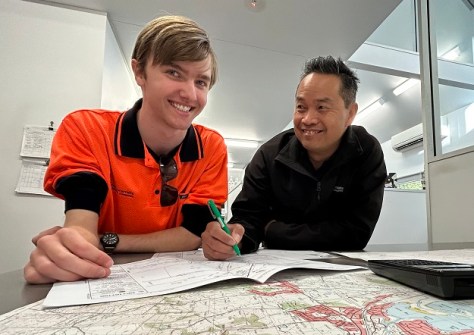 TAFE NSW has opened a mid-year surveying student intake at its Yallah campus south of Wollongong.
TAFE NSW surveying teacher, Jane Hayward, said surveying and mapping services offered a satisfying career in a growing and ever-changing industry.
"As older surveyors retire, and infrastructure projects continue across the state, we're seeing increased demand for more people willing to learn these skills, and there's plenty of work out there," she said. "For the first time at our Yallah campus we are now offering a mid-year intake for the course to help cater to the growing demand."
Cambewarra resident and TAFE NSW student, Brent Nowland, is only in his first year of study and work and is already encouraging others to consider the surveying sector.
Having studied construction as a Vocational Education and Training (VET) HSC subject at Nowra Anglican College last year, Nowland says it was the levelling section of the course that steered him toward a career in surveying.
He enrolled in the TAFE NSW Certificate III in Surveying and Spatial Information Services and started contacting local surveying companies about work.
"After my HSC I was looking at options into the industry and they were uni or TAFE NSW. I went with a surveying course at TAFE NSW Yallah because it was more practical and would give me the hands-on real-world experience, something I think helped make me more employable in job interviews," he said.
Nowland is now almost six months into his TAFE training and new career in cadastral surveying with the region's largest surveying company, Allen Price & Scarratts.
"Something I really enjoy about surveying is that I can be in a different environment almost every day, it's a good mix of working outdoors and in the office," he said.
Just as in many other industries, technology is reshaping how surveyors go about their work and the tools they use.
"Our students work through a mix of theory and practical coursework with industry qualified teachers using industry-standard equipment and technology," Hayward said. "This means a student with a TAFE NSW qualification can move easily into the workplace with practical abilities using the latest equipment and techniques."
"In my TAFE NSW course I'm learning on the same equipment and technology we use in the industry which means I can put what I'm learning to use in the field straight away," said Nowland.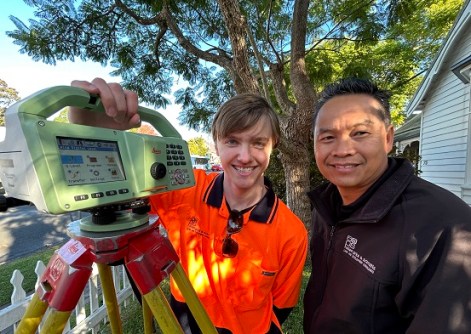 Thanh Le, director at Allen Price & Scarratts, said the company is continuing to expand its team to meet the growing industry demand.
"This is a skill that is vital to the construction sector. Surveyors are often the first people on a site before work can get under way," Le said.
"I was glad to hear about the mid-year intake at Yallah. TAFE NSW is an excellent pathway into this sector because the trainees have the advantage of real-world hands-on experience."