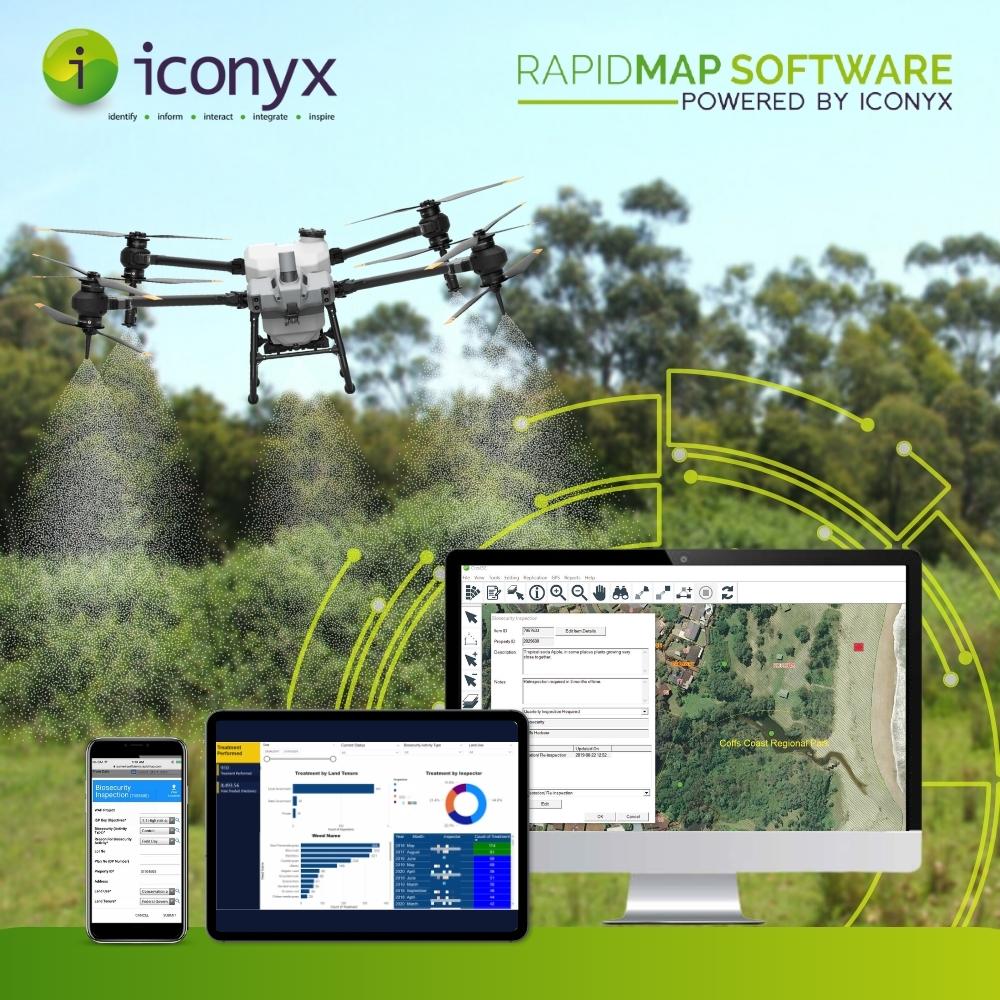 Managing weed infestations and controlling pest animals can be a daunting task, especially if you're dealing with disparate GIS data sets and questionable spatial accuracy. Fortunately, Summit Biosecurity is here to provide an efficient and effective solution to this problem. Developed by RapidMap, Summit Biosecurity is a Software as a Service mobile GIS application designed to empower your field team to conduct property inspections, locate, map with GPS/GNSS, and identify significant weed infestations on private and public land.
With advanced mobile mapping features and a team of technical experts to train and support your Biosecurity Officers to capture GIS data in remote and disconnected areas; Summit Biosecurity helps your team by also automatically scheduling treatments based on inbuilt business rules for individual infestations and properties, ensuring the most effective control of noxious weeds and pests. Biosecurity officers can choose from a variety of control methods, including herbicides, mechanical removal, and biological control and retain evidence of the effectiveness over time with photos to be synchronised when back online.
One of the key benefits of using Summit Biosecurity is the real-time data entry feature that allows Biosecurity Officers to input data in the field, saving time and eliminating the need for manual data entry. This feature has been proven to reduce data entry times by up to 90%, according to testimonials from satisfied users. Additionally, advanced mapping technology accurately locates and identifies noxious weed infestations and pest animal activity. This information can then be used to create detailed GIS reports, making it easy for officers to track progress and make informed decisions.
Summit Biosecurity also offers roadway and records weed access programs that make controlling weed infestations along major road arteries a seamless process. Inspecting and treating roadside vegetation with herbicides has never been easier to plan, schedule, conduct, record, and report on, with confidence that sensitive areas can be identified and protected.
One satisfied user of Summit Biosecurity is the Upper Hunter Weeds Authority (UHWA), which has been working closely with RapidMap for well over 12 years. The Upper Hunter region, located at the northern end of the Hunter Valley in New South Wales, is exposed to a diverse range of climatic conditions, increasing the risk of invasive plants establishing themselves within the region. UHWA is focused on controlling invasive species such as Harrisia Cactus, African Olive, Serrated Tussock, Chilean Needle Grass, Cabomba, Senegal Tea, Alligator Weed, and Salvinia in different parts of the Upper Hunter.
According to Doug Campbell, a Biosecurity Officer at UHWA, Summit Biosecurity has revolutionized the way they conduct property inspections for weed management and pest animal control. "It used to take nearly a full day to input a week's worth of data, and now it takes no time at all. UHWA is very satisfied with the capabilities of Summit Biosecurity and how it has streamlined our operations."
In conclusion, Summit Biosecurity is the ultimate solution for efficient weed management and pest animal control. With its advanced mapping technology and real-time data entry Smart Form features, your Biosecurity Officers can conduct property inspections, locate and identify noxious weed infestations, and create GIS reports to make informed decisions. Contact us today to learn more about how we can help your organization streamline your operations and improve your weed management and pest animal control efforts.