The next Maths in Surveying Day is coming up on 27 May, at Bicentennial Park in the Sydney Olympic Park precinct.
Now in its 15th year, the event is held three times per annum, usually in May, August and October. In 2022 the dates will be 27 May, 12 August and 28 October.
Maths in Surveying Day aims to address the shortage of students studying going into surveying careers by, hopefully, inspiring more of them to study advanced mathematics in high school (Extension Maths in Years 11 and 12 in NSW).
Maths in Surveying is run by an independent committee comprising maths teachers and surveyors. Funding is provided by the NSW Surveying Task Force.
If you're a surveyor and you're keen to inspire the next generation, you're welcome to volunteer to assist at the event. (A current Working With Children Check will be required.)
Each surveyor will be assigned a survey activity — one in the morning and another in the afternoon — for which they'll need only to instruct students in the use of the survey equipment and ensure they take their observations correctly, without damaging the equipment.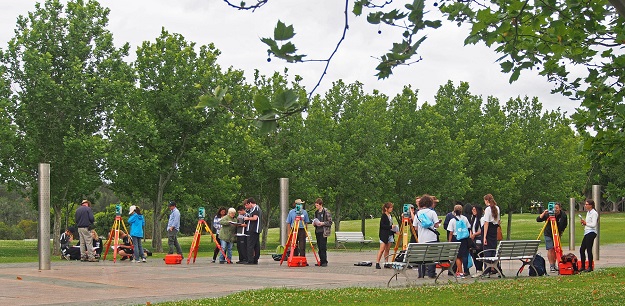 Teachers and student teachers will be on hand to assist the students with the mathematics and to keep control of the group.
Lunch and refreshments will be provided.
For more information, contact Ian Iredale (ian@mapsoft.com.au)or Cathy Moses from the NSW Surveying Taskforce (info@surveyingcareers.com.au).
The surveying industry is making a big push to generate interest in surveying careers, with a new dedicated website providing plenty of information for students and teachers.
Stay up to date by getting stories like this delivered to your inbox.
Sign up to receive our free weekly Spatial Source newsletter.