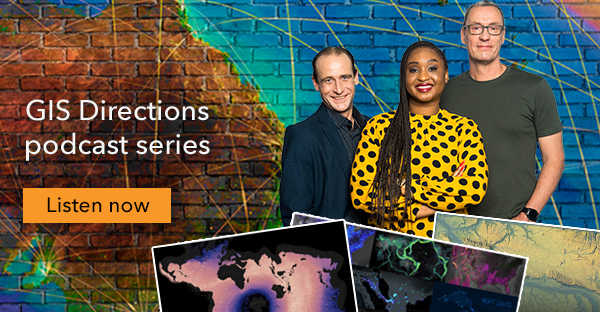 Listen and subscribe to the GIS Directions podcast for a fun fix of short, sharp and immediately usable geospatial tips and insights.
Join your hosts Wayne Lee-Archer, Ta Taneka and Josh Venman as they chat with inspiring GIS users, discuss new industry trends and dish out plenty of practical pointers.
GPS vs. Blockchain
Learn how geomining is underpinning new methods for establishing authentic location and discover what's myth and what's fact in the world of Blockchain.
Mapping with integrity
Get the lowdown on common cartofails and map misfires. Discover how to maintain map integrity – from critically evaluating the map data source, to crafting beautiful maps with Wayne's hot design tips.
An insider's guide to Firefly
Explore the origins of "Firefly" or "glow map" cartography. Discover John Nelson's insider tips for making data pop and creating maps with style.
Unpacking the Pandora's box of projections
Ta, Wayne and Esri's John Nelson discuss how map projections underpin cartographic truth-telling and discover novel ways to display data with the Equal Earth and Spilhaus projections.
Concealing complexity with great UX
How can you dramatically increase the adoption of GIS apps and maps? Ta, Josh and UX manager Shannon Stavrou explore why UX design is more than just a lick of paint.
Information provided by Esri Australia.