Location intelligence has come a long way. Technological advancements will take it even further.
PARTNER FEATURE
Few of us will remember the challenges that came with the management of location data in the 2000s. From the teleconference calls and manual data entry to the burning of CDs and physically delivering them to their destinations. Some will remember the stress of a missing data disc in the post or the struggle of printing the correct labels before pickup. The collection, collation, verifying and sharing of data took manual effort and time.
The beginning of national geospatial data
The early days of building the National Data infrastructure generally focused on improving the users' ability to access and integrate geographic information from the various agencies that produced it. Whilst the 1990s saw the early incarnations of national data; it was around the turn of the century that saw the delivery of several data foundations.
In 2004, the G-NAF (Geocoded National Address File) was created by Geoscape Australia as Australia's authoritative and most trusted geocoded address file. Built from addresses supplied by 10 contributors, including the land agencies in each state and territory of Australia, G-NAF includes the state, suburb, street, number and coordinate reference (or 'geocode') for all addresses in Australia.
Today, more than 50 million addresses have been distilled into 15.2 million unique addresses, providing an authoritative reference for enabling customer workflow.
The use of location capability has progressed exponentially. From being the domain of a limited number of specialists with the aim of generating a map, to it now being used extensively by the public, industry and our institutions in everyday decision-making, location technology is virtually ubiquitous. But there is still so much to do. As the industry continues to grow, we can look at how technology is impacting the creation of our national data assets.
"Today, the information flow is a two-way street, with users not only analysing and using the datasets but also contributing back to validate and enrich source data," said Michael Dixon, Chief Data Officer of Geoscape. "The growth of cloud technology, the rise of sensors and the connectedness of everything has opened up a whole new possibility of what can be achieved with location data while fostering community and collaboration,"
Technology advancements enabling more
In a little more than 10 years, assembling national data has moved from waiting for disks to arrive in the mail to leveraging highly scalable, cloud-based platforms to harvest, ingest, transform and productise spatial data.
The use of the cloud is helping geolocation companies generate copious amounts of data through long-running single-threaded processes to sophisticated arrays of connected microservices. At the other end of the value chain, data delivery via seamless APIs is now commonplace. Geoscape has been able to improve, standardise and transform its land and built environment data product suite and use this capability to provide end-to-end managed data service for location intelligence.
The emergence of the cloud platform is helping organisations use the data wherever and whenever they need it; location data is a valued component that gives them the edge in a competitive environment.
"We have invested heavily in our Continuous Data Platform to deliver the highest accuracy and precision and so we're proud of the quality of our datasets. In addition to this, with our managed services, our geospatial experts guide businesses on their data journey," said Dean Capobianco, CEO of Geoscape. "By leveraging our continuous data processing capability, every organisation can now access reliable and advanced location data for better business intelligence."
When it comes to location data, it's not only about bringing accurate, reliable and sophisticated data to life, but also ensuring the data integrates into and supports more complex business systems and workflows. It's about ensuring the right data is available in the right format at the right time. Also, many software producers and system integrators are now offering clever tools that combine the location dataset with insights such as aerial mapping technology or environmental information to bring forth meaningful patterns.
Additionally, the rise of open-source GIS software and the almost endless availability of new tools and libraries, have contributed to the growth in society's capability to generate and use a location. The new generation of GIS tools equip surveying and engineering companies with the ability to apply big data to specific industries quicker than ever before.
However, with all this capability, are we making the best of our data? "It's the right time for the industry to consider how we optimise the re-use of our data, to develop policies that incentivise collaboration in the national interest," added Michael.
With easy-to-use GIS, APIs have spring-boarded an innovative approach toward capacity, making it possible for users with little technical knowledge to use location data for their solutions. While the rise of location-based APIs helps engage with the community, they also increase the level of automation in workflows. By connecting the cloud-based location data via API to the internal workflow, the modern-day organisation can focus on their business and not on managing the data.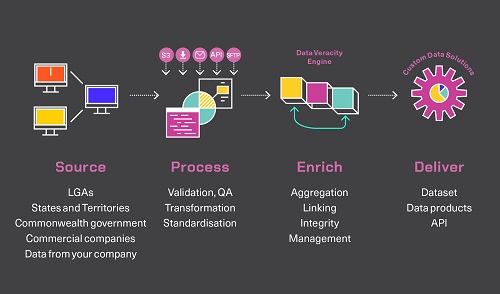 Geospatial data for Census
Geoscape also built a proof-of-concept for Census Readiness deployment by providing a service that could scale at a moment's notice, with security safeguards in place in the case of a potential distributed denial of service (DDoS) event. 1.9 million self-service transactions were completed using Geoscape Address Auto Complete and Validation capability. This contributed to a significantly decreased load on the call centre and reduced the call wait times to under 3min 30sec on average.
Geospatial data in a pandemic
Similarly, the creation of the COVID-19 Border Pass within a short development cycle is a testimony to how location-based API can help create a scalable solution for the national good. Location data was the critical element for multiple jurisdictions to understand the movement of the population to underpin contact tracing. The border pass was built off the common national address source, not individual copies of the data and was supported by scalable APIs.
Real-time geospatial data for communities and businesses
Another essential technological advancement in location data is capturing real-time data which provides invaluable information for Australian communities, especially before and during emergencies such as flood or fire prevention, response and recovery. By deriving data visualisation to assess the impact of flood or bushfire at a particular location, the response agency can plan better.
When used by a platform like Uber, customers can see where their drivers are and their movements. When combined with real-time trend mapping and simple visualisation, retailers can understand how their consumers travel through the mall and the shops they visit, helping retail chains respond to customer needs by tailoring their services.
"Compared with the data from 15 to 20 years ago, today's datasets are richer and more insightful, allowing for higher productivity levels than ever. While cloud computing and availability of APIs and open-source tools have made it possible to deliver customised datasets and insights–this information needs to be aggregated to have a nationalised view," said Michael.
Location intelligence, with continuously updated data, allows the modern-day organisation to scale, slash time and configure tools it needs. Companies like Aerometrix, Archistar, Finity, REA and OneMap use location data to do exactly that. They have been using location intelligence to create solutions that benefit their clients. For example, Finity's proprietary risk scores deep-dive into crucial information about an address and its surrounding hazards.
Geospatial technologies are used in almost any sector, industry or research where location data is important. They help answer many questions and offers insight for industry segments into worldwide trends, patterns or risks while adding depth to information about the people who live in specific locations.
The future of geospatial data
As we continue to undergo continuous transformation and experience disruptions caused by using the latest technologies, we need to continue to transform the foundational data and build capacity for using geospatial technology to achieve national strategic priorities. Additionally, it's important to be able to customise, enrich and deliver into the customer environment and support them at any point in the lifecycle of their geospatial journey.
Location intelligence has come a long way; embracing technological advancements will take the industry to greater heights.
Stay up to date by getting stories like this delivered to your inbox.
Sign up to receive our free weekly Spatial Source newsletter.