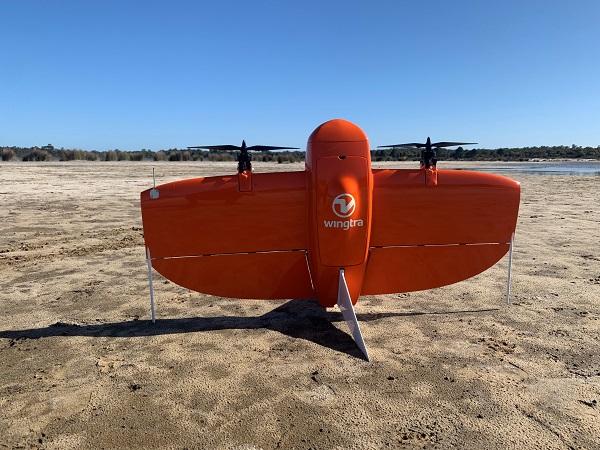 The surveyor-tested WingtraOne VTOL mapping drone delivers superior imagery over a long range and the flexibility to take off and land anywhere.
Perth-based RM Surveys have spent the past 25 years thriving by landing and delivering on the region's biggest jobs.
But a few years back they found that their fleet of multirotor drones was holding them back from quoting on large aerial photogrammetry projects.
But that all changed when they added the WingtraOne VTOL mapping solution to their fleet.
"We were getting a lot of requests to do some large areas in regional WA, but the multi-rotor drones just didn't have the range or the ability to cover them," says Bennett Tunbridge, RM Surveys' Director – Mine Tenement & Exploration.
"With a multi-rotor we were sort of able to get maybe 40 hectares at the very most from a set of batteries, whereas with the Wingtra now we're looking at 200+ hectares," he says. Plus, the Wingtra comes equipped with PPK, so there is no need to go through the time-consuming process of laying down ground control points to achieve survey-accurate orthomosaics and point cloud data.
"On a recent job that meant it took just one day of flight time versus five days with a multi-rotor drone," Tunbridge says.
Also, because the WingtraOne can take off and land vertically from a tiny 2m by 2m spot, RM Surveys no longer need to worry about sacrificing image quality and coverage just because the terrain near the survey site is too unforgiving for the often awkward belly landing of a traditional fixed-wing drone.
"The WingtraOne really is the best of both worlds," says Graeme Carleton with Australian distributor CR Kennedy, which has been working with RM Surveys for more than two decades.  "It has the benefits of a fixed-wing drone, which is where it gets its endurance from, but it also can operate from a small footprint."
Carleton says clients regularly complained about the hassle of finding the space to land traditional fixed-wing drones on site, or of the damage traditional fixed-wing drones would often sustain skidding along on their bellies in unforgiving terrain.
"Even after one flight, you can start damaging your drone during a landing," CR Kennedy's Carleton says. "But with the vertical take-off and landing capability of the WingtraOne, you can avoid risking damage to the drone and your camera, but still cover a really large area."
The combination of sophisticated software and innovative design allow the WingtraOne to autonomously take off and land vertically, meaning that the equipment is also protected from another common hazard – operator error.
For RM Surveys' Bennett Tunbridge, the WingtraOne's many benefits really stood out on a recent aerial survey of a potential mine site in the Forrestania region of central WA. At 1265 hectares, the job would have been prohibitively tough going with a multi-rotor drone, and the rough terrain meant little access for laying ground control points or landing a traditional fixed-wing aircraft.
"The output of the images was phenomenal," he says, noting that the 42-megapixel Sony RX1R II camera onboard allows the Wingtra to fly at higher altitudes and cover much more terrain, while still delivering superior imagery and data.
"That high resolution just cannot be matched by anything else that we've had before with the multi-rotors, yet the WingtraOne still provides that flexibility to land and take off vertically," Tunbridge adds.
"We were able to move and set up in different locations quite easily even though it was quite hard to get to some places, and then with the Wingtra having that extra ability to cover additional terrain was really helpful," he says.
The WingtraOne flew smoothly above the Forrestania site even through some really stiff winds. Tunbridge says the navigational software compensated so well that the only real excitement came when an eagle started stalking the craft for a bit, swooping in once or twice before thinking better of going after the 1.2m wide drone.
Tunbridge says another anxiety that the WingtraOne helped eliminate was over battery life – a common worry for operators of conventional drones especially in remote areas where a reliable power supply can be tough to come by.
"There just wasn't an issue with the Wingtra because we were able to do the job with so few flights," he says.
The WingtraOne PPK achieves up to 1cm accuracy with most base station modules and brands, but the team at RM Surveys have run their flights exclusively with their tried and tested Leica GS15 base station, and Tunbridge says the results have been stellar.
"Also, because we're running a base station we can run an RTK radio with that and a rover as well, so we can actually put some ground control out just for verification double checks, because being surveyors we like to double check and triple check and have some redundancy," he says.
"We've been really happy with the Leica setup that we've got – it has just been really impressive how it has all worked together with the Wingtra," he says.
The RM Surveys team also appreciate the interchangeable payload capability of the WingtraOne. Tunbridge says they have plans to soon mount a new multispectral sensor they bought specifically for the Wingtra, opening them up to agricultural work that would not have been possible before.
"So basically, the Wingtra isn't just for normal mapping," says CR Kennedy's Graeme Carleton. "But through a simple payload change, they can put the Wingtra to other uses and applications, which in turn then opens up additional capabilities and the services that they can offer their clients."
The WingtraOne PPK drone mapping solution is available in Australia through CR Kennedy. For more information on Wingtra or Leica's line of complementary smart antennas call the team at CR Kennedy at +61 3 9823 1533.
Information provided by CR Kennedy.