Oct
27
Wed
HydroSpatial2021 Conference

@ The Pullman Cairns International Hotel
Oct 27 @ 9:00 am – Oct 29 @ 4:30 pm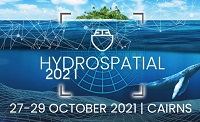 The Australasian Hydrographic Society's HydroSpatial2021 Conference will focus on how hydrography will develop in the future, noting the development of 'digital twinning' and the emerging name variants for hydrography such as 'hydrospatial' or 'hydrogeomatics'.
The conference theme, Hydrography of the Future, morphs two modern yet wide-ranging aspects of the hydrographic surveying profession, and should draw papers from relevant scientific, technological, operational and environmental communities. The aim is to provide delegates with valuable insights, creative ideas and inspiration on how to harness current and future technologies, systems and processes so that they can deal with present challenges and prepare for a more sustainable future.
Aug
22
Mon
FOSS4G 2022

@ Florence, Italy
Aug 22 @ 9:00 am – Aug 27 @ 4:30 pm
The 16th annual congress of the Open Source Geospatial Foundation, the non-profit organisation that supports and promotes the collaborative development of free and open source geographic technologies and open geospatial data, will be held in Florence, Italy, at the Palazzo dei Congressi, Palazzo degli Affari and the University of Florence.
FOSS4G (ie. Free and Open Source Software for Geospatial) brings together developers, users, decision-makers and observers from a broad spectrum of organisations and fields of operation.